When it comes to drawing in traffic to any website there are a number of factors and metrics to consider. When writing for a blog, some posts will perform better than others. This often has to do with the topic and competing for traffic from other bloggers and companies.
A better performing post might experience an increase in its page authority. An individual blog with a higher page authority has demonstrated its knowledge and professionalism through a series of variables, including backlinks and overall traffic. However, this is different from domain authority.
While page authority has to do with an individual blog post, domain authority represents the overall authority of the entire website, including all posts within the domain. For a website to see an increase in its search engine optimization and overall Internet traffic on every single post and page, it is important to know how to increase the blog's domain authority.
Create Quality Content
Quality content helps elevate an individual post above other posts on a similar topic. This will, in turn, help boost the page domain. However, in turn, when one great post comes on the heels of another great post, it creates steps to a higher domain. It's impossible to be considered an authoritative domain without quality content. All other factors revolve around the quality of posts.
Quality posts will not receive the same number of social shares or backlinks. Others will not want to read it, nor will they recommend others to do so. Inferior content results in inferior domains.
In many ways, quality is more important than quantity. Quantity may help boost immediate views, but without quality, these are only immediate and will not last.
According to Small Business Trends (2018), 55 percent of consumers revisit a company's website when they deem the content useful and valuable. 50 percent are more likely to research the company's products and services and 42 percent say they are more likely to purchase a company's products. Quality doesn't just eventually lead to a blog's domain authority. It leads to return visitors, improved bounce rates and more sales.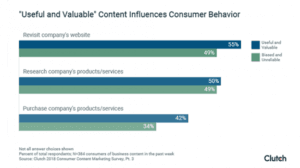 (Source)
Boosting Social Signals
Social media allows for a blogger or business writer to quickly post content and share it to followers around the social world. Beyond this though, social sharing is a critical element in becoming a domain authority.
Links shared directly on social media sites, such as a writer posting a link to their blog on Facebook or Twitter, doesn't assist with search engine optimization and the measuring of backlinks. However, these shares and the secondary shares from followers do play a role in boosting social signals.
Social signals relate to the number of times content is shared, interacted with, and commented on by external users. Google also uses social signals to help determine quality content. Naturally, it deems material with elevated social signals as more beneficial than material not receiving any shares. The search engine does utilize other measurements in determining search engine rankings, so it's not just a popularity contest. However, for a domain to be seen as an authoritative website, it needs to be shared over social media
As Get Articles Done points out, there are a number of metrics involved with determining search metrics. The two top performing metrics are the click-through rates and the quality of on-page content. However, the next important variables include shares on Google+, Facebook shares, Facebook comments, Facebook likes, Tweets, posts from Pinterest and so on. While quality content will always supersede all other variables, creating a post with shareable qualities on social media helps.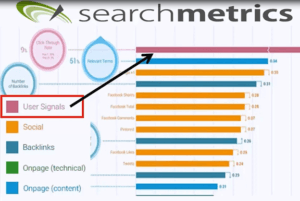 (Source)
Page Search Engine Optimization
The authority of a domain is ultimately the sum of all parts. In order for the website to be perceived as beneficial individual pages need to be perceived as beneficial. The only real way for pages to improve on this is to have quality search engine optimization. On-page SEO remains as critical as ever. Search engines are able to take varying factors into determining page ranks, so quality remains the most important ingredient in search rankings, but it is possible to nudge that ranking up a bit with some assist from on-page SEO tactics.
There are a number of small SEO variables to sprinkle in over top of a blog post. These small elements will not change the quality of a blog post. Instead, it just makes it easier to index and for Google to know exactly what the post is about. Creating heading tags (using H1, H2, H3, and so on) helps with this. Placing keywords within these tags goes a long way.
Additionally, adding in targeted keywords and including a meta description to assist the display on search engines helps as well. Plus, the title needs to be attractive with keywords, although it needs to avoid the click-bait construction of a cliff-hanger branding and no payoff in the blog itself (search engines and even social media pages are starting to fight back against click-bait, so even if this tactic has worked in the past, it likely won't for much longer).
It is important to combine SEO with website optimization. The two, when paired hand in hand, go a long way toward boosting blog domain. As Crazy Egg points out, while SEO helps to generate initial traffic, website optimization helps increase conversions and acquire new customers. By merging the two together, a domain will increase in its stature and search engines will begin to rank the entire blog continually higher.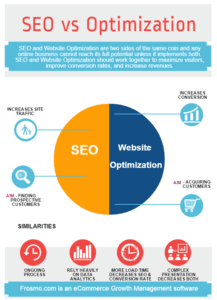 (Source)
Remove Bad Links
Back-links are essential in the growth and development of any blog domain. However, bad links can prove the opposite. As bad links begin to pile up, it pulls down another domain like someone trapped in quicksand, dragging another person down with them.
When a website with low authority, or one that has routinely been flagged by search engines, begins to pull links from another website, Google sees this as a bad sign for the other blog. It reflects poorly on the blog attempting to build its reputation and authority. In other words, it's guilty by association. Due to this, while it is important to generate and grow back-links, it's just as important (if not more important) to disconnect and disavow the bad links running to the website.
There are a number of services available online that allow website creators and bloggers to identify what websites are currently sending traffic to their site. Services such as Google's Disavow Links tool and others will scan over connected back-links and provide information onto the quality of these links. Quality services will then flag which of the hosting websites are deemed as poor quality. Once a blog admin has identified these poor links it's then possible to select the websites and remove the connected links (just because a website wants to link to a blog does not mean a blog needs to allow this).
A blogger may wonder what bad links are and how they should identify such bad links. This is a two-way street. Bad links are both incoming links sending traffic to a blog and outgoing links (where a blog sends traffic to). It is important to not only know who's sending in traffic but likewise where a blogger is linking and potentially sending traffic to (which demonstrates the importance of citing to only quality websites).
As Ahrefs points out, bad incoming links include any links a blogger paid for in order to boost back-links and influence Google, links from "link farms," solicited links (again links a blogger pays for), links connecting flagged spun content, links running from illegal content and so on. Bad outgoing links include hidden links, broken links, links to spammy posts (or not safe for work content) and to paid links.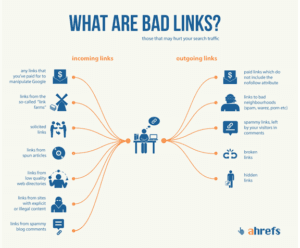 (Source)
Linking has become a critical element in the building and growth of a blog (and any website). However, for a blog looking to build its domain authority, it is critical to avoid linking, either from or to, bad links. It takes a little extra diligence, but by ensuring only quality connecting links, it goes a long way in boosting the website's appearance in the eyes of Google and other search engines. This, in turn, will go a long way in helping the blog's authority increase.
In Conclusion
There are a number of specifics involved in building a website's domain authority. However, by focusing on these points of concern an entire blog will reap the benefits, not just individual posts. While it remains critical to producing quality blog posts each and every time, utilizing these specific tips will help elevate the entire domain, which in turn helps boost the performance of all current and future blog posts. No matter what the industry or the target audience in question, boosting a company's entire domain will increase traffic, generate more interest and generate more revenue through advertising and product sales.