Being that we're in the middle of Tropical Depression Hermine (or is it a hurricane yet, I don't know)… I will just make a quick review on a new tool I've been using to promote my blog and also grow my social media presence.
The name of the tool is Quuu.co and this is my official review.
Quuu.co is absolutely one of the most genius ideas I've seen come out in a long time. My only real gripe is that I didn't invent it.
There are 2 sides of Quuu and both can help you grow your blog and your business.
The "main" part of Quu is that they offer what they call "hand-curated content suggestions for social media". They are basically solving a problem that most of us have. It's GREAT to share content with your social media following… but it's hard to find all that content and get it set to go out.
So, that's where they come in. They do the hard work of finding great content. They then connect to your Buffer account. Then, as if by magic, you get daily articles shared to your following on a timed basis. Y ou don't do anything other than choose what categories you want shared.
Here's Quuu's graphic to explain it: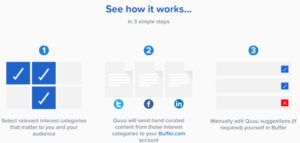 I've been using Quuu for a few months and I have some reporting (through Buffer) that tells me how I've done. Here's a screenshot of my results: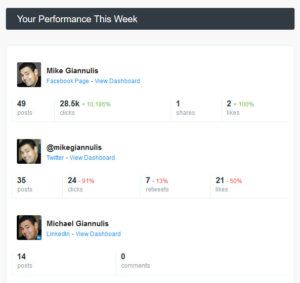 I don't do much on LinkedIn so I'm not surprised. These results are not really spectacular, but for a service that is really cheap, it helps add to my public persona. I would recommend if you're in the content marketing business, you add Quuu.co to your repertoire. Side note: It says 28.5k clicks on my FB page – but I am 99% sure that's an error in reporting.
Quuu Promote – The Other Side Of The Coin
This is the part that I REALLY like. If you wondered where Quuu is getting all that great, quality content from… well, people like me are paying them to share it. They've set up a perfect 2-sided marketplace and get both sides to pay to solve their problem.
Problem 1: I need good articles to share with my following about my topic. I don't want to spend all my time trying to locate quality content. And I don't want to schedule it. It would be great if someone could just find it for me and schedule great posts to go out to my social media followng.
Problem 2: I'm a content producer and have AWESOME stuff. Problem is, no one reads it and I can't get anyone to share it for me.
Problem 1 is solved by Quuu content promotion. Problem 2 is solved by Quuu Promote. Quu promote allows you to take your best content and get it shared by a host of social media personalities. What I like about it is the potential social proof of getting lots of shares as well as the potential SEO value of having social media links pointing back to your site.
None of these things is an "instant fix", but I think over the long haul you will see improved rankings and traffic.
I recently used Quuu Promote to advertise one of my blog posts called 5 Copywriting Books You Must Read
I paid Quuu $30 to promote my post for 30 days. And so far, here's what I've got. Note it's been 6 days since Quuu started promoting my post. Let's see how they've done:


So 34 social media shares and 3 clicks.
I don't really blame Quuu for the low clicks. Social media in general is not great for clicks. It's good for "getting seen" and having people scan a headline, but clicks are harder to come by. Also, the amount of clicks is I'm sure linked to the type of post and whos' seeing it.
But, like I said earlier. I'm looking more at the long term here and thinking that getting lots of shares and some traffic will pay off. I could be wrong, but I don't mind spending $30/month for guaranteed shares and "backlinks".
If you're thinking of giving Quuu a try let me know how you do in the comments below. As more people use Quuu I think it will become more valuable, but the price will rise as well.
I hope you enjoyed my Quuu Review.